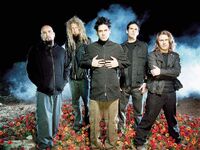 Adema is a rock band formed in 1999, and hails from Bakersfield, California.
In Mortal Kombat
Adema's music video for "Immortal" from the EP "Insomniac's Dream" was featured in the video game titled Mortal Kombat: Deadly Alliance and includes scenes from the game.
Videos
Ad blocker interference detected!
Wikia is a free-to-use site that makes money from advertising. We have a modified experience for viewers using ad blockers

Wikia is not accessible if you've made further modifications. Remove the custom ad blocker rule(s) and the page will load as expected.