Arctic Hold is a fictional hair gel presented by Frost of the Lin Kuei ninja clan who always keeps that all blue, drop-dead gorgeous hairdo around. The picture of it can be found within the Krypt and Extras kontent gallery of Mortal Kombat: Deadly Alliance.
Arctic Hold Advertisement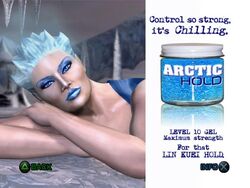 "
Ever wonder how Frost keeps that killer blue hairstyle intact? Now you too can look drop-dead gorgeous with Arctic Hold hair gel. Your icy good looks will freeze everyone in their tracks."
Ad blocker interference detected!
Wikia is a free-to-use site that makes money from advertising. We have a modified experience for viewers using ad blockers

Wikia is not accessible if you've made further modifications. Remove the custom ad blocker rule(s) and the page will load as expected.