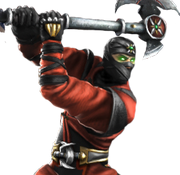 The
Axe
is a weapon used by
Ermac
in
Mortal Kombat: Deception
and
Mortal Kombat: Armageddon
. This is Ermac's trademark weapon in those two games, along with his telekinetic powers. The Axe can be used by a created character in
Armageddon
. It is also used by
Scorpion
in
Ultimate Mortal Kombat 3
and
Mortal Kombat Trilogy
. It is similar to a battle axe, but with only one bladed side on the head, closely resembling an Ono.
The origins of the axe could be somehow related to those of Ermac himself, which explains the emblem's incredible resemblance to Ermac's gem.
Gallery
Ad blocker interference detected!
Wikia is a free-to-use site that makes money from advertising. We have a modified experience for viewers using ad blockers

Wikia is not accessible if you've made further modifications. Remove the custom ad blocker rule(s) and the page will load as expected.