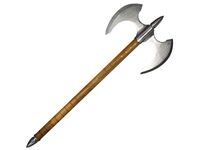 The Battle Axe (also Battle-Axe or Battle-Ax) is a weapon used by the Raptor Reptile in Mortal Kombat 4 and Mortal Kombat Gold. In its most common form, it is an arm-length weapon held in one or both hands. Compared to a sword swing, it delivers more cleaving power against a smaller target area, making it more effective against armor, due to concentrating more of its weight in the axehead. However, it allows much less precision than a sword does.
Gallery
Ad blocker interference detected!
Wikia is a free-to-use site that makes money from advertising. We have a modified experience for viewers using ad blockers

Wikia is not accessible if you've made further modifications. Remove the custom ad blocker rule(s) and the page will load as expected.