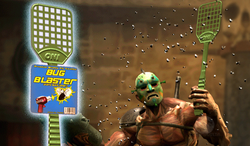 Bug Blaster
is a fictional and comedic flyswatter with its own advertisement obtained and found within the
Krypt
and Extras kontent gallery of
Mortal Kombat: Deadly Alliance
. The spokesperson for this item is the Oni Tormentor
Drahmin
.
Bug Blaster Advertisement
"If your flesh is rotting off your bones, then those pesky flies and maggots are sure to follow. Don't live with swarms of annoying flies – blast 'em! Drahmin never leaves his dimension without his handy Bug Blaster."
Ad blocker interference detected!
Wikia is a free-to-use site that makes money from advertising. We have a modified experience for viewers using ad blockers

Wikia is not accessible if you've made further modifications. Remove the custom ad blocker rule(s) and the page will load as expected.