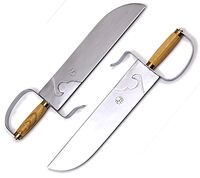 Butterfly Knives
are weapons used by the
Black Dragon
mercenary
Kano
in
Mortal Kombat
. He very often uses his Butterfly Knives in combat, whether he throws them at the opponent or uses them in hand-to-hand combat.
Mortal Kombat
The criminal Kano uses these single-edged knifes to slit the throats of anyone who gets in his way. They have been used throughout the Mortal Kombat series. Three of Kano's signature moves have to do with the Butterfly Knives, such as the Knife Throw, the Blade Swipe, and the Blade Spin.
Gallery
Ad blocker interference detected!
Wikia is a free-to-use site that makes money from advertising. We have a modified experience for viewers using ad blockers

Wikia is not accessible if you've made further modifications. Remove the custom ad blocker rule(s) and the page will load as expected.