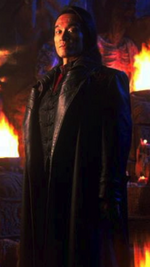 Cary-Hiroyuki Tagawa (born September 27, 1950) is a Japanese-American actor who portrayed Shang Tsung in Mortal Kombat and Mortal Kombat: Legacy Season 2 and was also one of the fight coordinators in Mortal Kombat: Live Tour. In addition to his extensive film work, he has appeared on television in Star Trek: The Next Generation - "Encounter at Farpoint" (1987), Thunder in Paradise (1995), Nash Bridges (1996), Baywatch: Hawaiian Wedding (2003), Heroes (Tv series) (2007) and Tekken (2010). He also provided the voice of Sin Tzu for the video game Batman: Rise of Sin Tzu.
External Links
Ad blocker interference detected!
Wikia is a free-to-use site that makes money from advertising. We have a modified experience for viewers using ad blockers

Wikia is not accessible if you've made further modifications. Remove the custom ad blocker rule(s) and the page will load as expected.