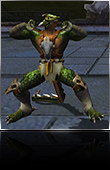 Crab
is a fighting style used by
Reptile
in
Mortal Kombat: Deadly Alliance
. As implied by its name, its movements are primarily performed by imitating the movements and walking style of a crab. It was one of the handful of fighting styles to never be re-used after its debut in future games.
https://www.youtube.com/watch?v=OqJUrKV6Fa8
Ad blocker interference detected!
Wikia is a free-to-use site that makes money from advertising. We have a modified experience for viewers using ad blockers

Wikia is not accessible if you've made further modifications. Remove the custom ad blocker rule(s) and the page will load as expected.