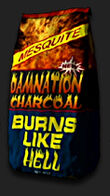 Damnation Charcoal is a fictional and comedic charcoal product used for barbeques, and for torture as well. It is obtained and found within the Krypt and Extras kontent gallery of Mortal Kombat: Deadly Alliance. The spokesperson for this product is the vengeful ninja spectre, Scorpion, also the host of the fictitious cooking show "Cooking with Scorpion".
Damnation Charcoal Advertisement
"Don't trust your family barbeque to just any charcoal. Whether you're cooking up some hotdogs for the kids or roasting the flesh of your enemies, Damnation Charcoal gets the job done. Nothing grills a steak like the flames of Hell!"