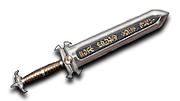 The
Devastator
is a heavy sword, very wide and adorned with ancient symbols on its blade.
The Devastator was originally going to be General Reiko's weapon in Mortal Kombat: Armageddon. However, the MK team decided to give this sword to Fujin in the final version of the game.
This massive sword was obtained by the wind god Fujin and used against the Forces of Darkness to help prevent Armageddon. In gameplay, Fujin's Devastator uses similar attacks to Kenshi's Sento.
This relic is similar to the artifact found trapped in the giant emerald gem held inside the Red Dragon clan's "museum", called Lungchuan Dao or Red Dragon Sword.
Gallery
Ad blocker interference detected!
Wikia is a free-to-use site that makes money from advertising. We have a modified experience for viewers using ad blockers

Wikia is not accessible if you've made further modifications. Remove the custom ad blocker rule(s) and the page will load as expected.