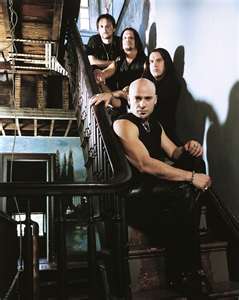 Disturbed is an American metal/rock band that formed in Chicago, Illinois in 1996. The band has sold over 13 million albums worldwide since their formation, making them one of the largest grossing metal or rock bands on the globe. Disturbed has had large affilations with many worldwide company juggernauts such as Midway, WWE, Comedy Central, and Netherrealm Studios.
Disturbed's members are David Draiman (vocals, 3/13/73, Brooklyn, NY), Dan Donegan (guitar, 8/1/68, Oak Lawn, IL), John Moyer (bass, 11/30/73, El Paso, TX) and Mike Wengren (drums, 9/3/71, Chicago, IL).
In Mortal Kombat
Disturbed has had few affilations with Netherrealm Studios and Midway, yet all are recognized by the band and company. Disturbed's hit song "Another Way to Die", from their 2010 album Asylum, was used in the Mortal Kombat (2011) video game's "Shadows" Trailer on August 31st, 2010, upon the revealing of the game.
Ad blocker interference detected!
Wikia is a free-to-use site that makes money from advertising. We have a modified experience for viewers using ad blockers

Wikia is not accessible if you've made further modifications. Remove the custom ad blocker rule(s) and the page will load as expected.