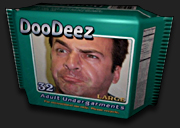 DooDeez also as in DooDeez Adult Undergarments or DoodDeez Adult Diapers is a humorous, fictional set of adult diapers used for elderly citizens, and for young adults that have bladder and bowel control problems. This product can obtained and found in the Krypt and Extras kontent gallery of Mortal Kombat: Deadly Alliance.
DooDeez Adult Undergarments Advertisement
"Tired of those inconvenient accidents? Hate missing a killer fatality because of one annoying trip to the bathroom after another? Your worries are now over with DooDeez Adult Diapers." - In-game description
Ad blocker interference detected!
Wikia is a free-to-use site that makes money from advertising. We have a modified experience for viewers using ad blockers

Wikia is not accessible if you've made further modifications. Remove the custom ad blocker rule(s) and the page will load as expected.