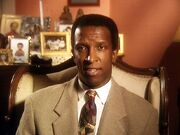 Dorian Harewood (born August 6, 1950) is an African American actor. He first garnered attention for his portrayal of Simon Haley (father of author Alex Haley) in the ABC miniseries Roots: The Next Generations. He is also known for his roles in Full Metal Jacket and The Jesse Owens Story, and for his co-starring role in the ABC Television series Strike Force. In 1994, he was awarded the NAACP Image Award for Outstanding Actor in a Drama Series, Mini-Series or Television Movie, for his recurring role as jazz/blues saxophonist Clarence "Cool Papa" Charleston on the NBC drama series I'll Fly Away.
He voiced Jax Briggs in the animated series, Mortal Kombat: Defenders of the Realm.
External links
Ad blocker interference detected!
Wikia is a free-to-use site that makes money from advertising. We have a modified experience for viewers using ad blockers

Wikia is not accessible if you've made further modifications. Remove the custom ad blocker rule(s) and the page will load as expected.