Ad blocker interference detected!
Wikia is a free-to-use site that makes money from advertising. We have a modified experience for viewers using ad blockers

Wikia is not accessible if you've made further modifications. Remove the custom ad blocker rule(s) and the page will load as expected.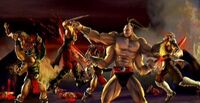 Dragon Fangs
are weapons used by
Goro
, first appearing
Mortal Kombat: Deception
as his weapon style and again in
Mortal Kombat: Armageddon
. In
Mortal Kombat X
, they serve as one of Goro's
Character Variations
.
These gauntlet-like weapons are used by the Shokan people in kombat. It is unknown if the blades were carved from actual Dragon teeth, or if this was just a nick-name given to them to sound more lethal.
Kintaro uses an offshoot variation of the weapon called Saber Teeth.
Gallery