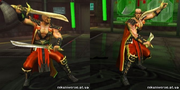 The
Drakeswords
were weapons forged for the brothers
Taven
and
Daegon
to use on their quest to save the realms and were kept in the
Temple of Argus
for them to be retrieved. Daegon, having woken up much earlier than Taven, had taken both of the weapons for himself and used them to kill his own parents.
Daegon uses both blades as his weapon style in Mortal Kombat: Armageddon.
After defeating Daegon in combat, Taven recovered his original Drakesword.
Gallery