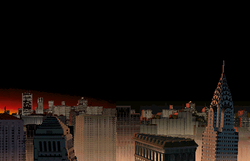 Earthrealm City
is a large, unnamed metropolis where many people live, and it is one of the regular cities of
Earth
. This city first appeared in the
Mortal Kombat 3
as the central hub of the storylines, and it is a battlefield where
Shao Kahn
can be found once again and fought. The city in question seems to be or have a very strong resemblance to
New York City
and many areas can be used as arenas, such as the
waterfront
,
streets
,
subways
,
city bridges
,
banks
and
rooftops
.
During the events of the second Mortal Kombat movie and the animated series, the places that the heroes enter have somewhat of a connection to the game and in some cases are the virtually the same.
The Earthrealm City later reappeared in Mortal Kombat (2011), being the first target for the Konqueror´s invasion, during its Story Mode.
Deacon City and the Earthrealm City may be one and the same.
Ad blocker interference detected!
Wikia is a free-to-use site that makes money from advertising. We have a modified experience for viewers using ad blockers

Wikia is not accessible if you've made further modifications. Remove the custom ad blocker rule(s) and the page will load as expected.