Ad blocker interference detected!
Wikia is a free-to-use site that makes money from advertising. We have a modified experience for viewers using ad blockers

Wikia is not accessible if you've made further modifications. Remove the custom ad blocker rule(s) and the page will load as expected.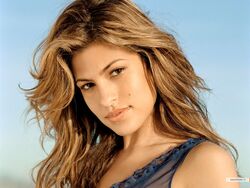 Eva Mendes
(born March 5, 1974) is the American actress and model who plays
Hanna
,
Siro
's former wife in the episode "
Thicker Then Blood
" of
Mortal Kombat: Conquest
.
Filmography
* Children of the Corn V: Fields of Terror (1998) (Eva Mendes) .... Kir
* A Night at the Roxbury (1998) ... Bridesmaid
* Mortal Kombat: Conquest (1998) ... Hanna (guest star, one episode)
* My Brother the Pig (1999) ... Matilda
* The Disciples (2000) ... Maria Serranco
* Urban Legends: Final Cut (2000) ... Vanessa Valdeon
* Exit Wounds (2001) ... Trish
* Training Day (2001) ... Sara Harris
* All About the Benjamins (2001) ... Gina
* 2 Fast 2 Furious (2003) ... Monica Fuentes
* Once Upon a Time in Mexico (2003) ... Ajedrez
* Out of Time (2003) ... Alex Díaz Whitlock
* Stuck on You (2003) ... April
* Hitch (2005) ... Sara Melas
* The Wendell Baker Story (2005) ... Doreen
* Guilty Hearts (2005) ... Gabriella
* Trust the Man (2006) ... Faith
* Ghost Rider (2007) ... Roxanne Simpson
* Knocked Up (2007) ... Herself (uncredited)
* We Own the Night (2007) .... Amada Juarez
* Live! (2007) .... Katy
* Cleaner (2007) ... Ann Norcut
* The Women (2008) ... Crystal Allen
* The Spirit (2008) ... Sand Saref
* Bad Lieutenant: Port of Call New Orleans (2009) ... Frankie Donnenfeld
* The Other Guys (2010) ... Sheila Gamble
* Last Night (2010) ... Laura
* Fast Five (2011) ... U.S. Customs Agent Monica Fuentes (uncredited special appearance)