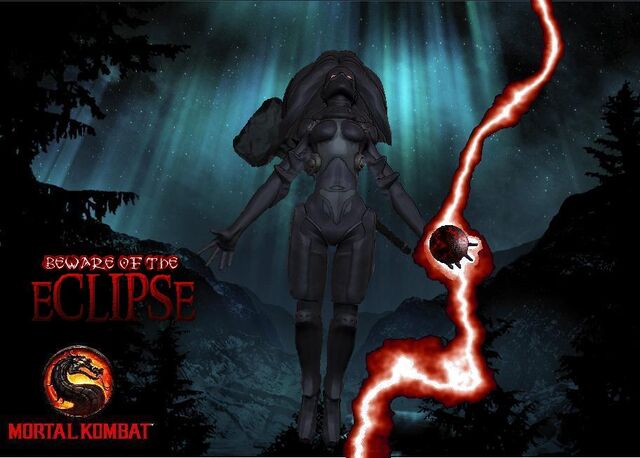 Description
Real Name: Lunar (Human form), Eclipse (Name of wraith's soul)
Gender: Female
Status: Assassin
Origin: Heaven
Resides: Netherrealm
Species: Hybrid of Human and Energy possessed by a wraith
Allies: Xpore (As Lunar), Shinnok and Reptile (As Eclipse)
Enemies: Raiden, Xpore (As Eclipse)
Weapons: War Hammer
Fighting Styles: Baji Quan
Alignment: Good (as Lunar), Evil (as Eclipse)
Signature Moves:
a. Tee time: Eclipse uses her war hammer to golf her red orbs towards her opponent causing significant damage.
b. Re-possession: Lunar tries to regain her body, evident of her face reappearing but eventually Eclipse takes hold again. She will be vulnerable to attacks but will give additional lifebar if successful.
c. Right back at you: Everytime an opponent throws a certain power, she can hit it back using her war hammer causing damage in the process.
d. Body Bomb Express: Eclipse will explode causing significant damage to her opponent if near while leaving her body unscathed.
Fatalities:
a. Melting lava: Eclipse will let her opponents swallow a single red orb and will eventually melt their insides to goo specifically their mid area /guts of the body leaving the lower and upper half to bend in two.
b. Smashed potato: Eclipse will use her war hammer to smash her opponents with great force from the head downwards leaving only a circular form of mashed body and organs (like a can squeezed from side to side) with blood slowly dripping from it in the process.
Bio:
Along with Xpore, she was created by en elder god to be the next Eve thru the new Genesis and repopulate earthrealm with powered enhanced humans. They were sent down below as infants, but Shinnok managed to capture and train them in order to become the ultimate weapons for the take over of earhtrealm as what Shinnok wanted to do for a long time. Although as Xpore was getting better, it wasn't the case for Lunar. So one day Reptile suggested to Shinnok to take a wraith soul and have it possessed Lunar in order for her to become a greater warrior and at the same time, keep the blind allegiance of Xpore to Shinnok by telling his greatest warrior that Raiden was responsible for the possession. After the said possession, Lunar did become a greater warrior but this did not hinder Xpore from leaving in order to seek the re-possession for his love Lunar since he learned that Shinnok was responsible of it all. Although this did not hinder Shinnok as he already has Lunar as his new secret weapon, making her an assassin and taking the codename of Eclipse-a dark warrior which is the real name of the wraith that is inhabiting Lunar. Her first target, Raiden. She willingly accepted as she was led to believe that it was because of him that both Lunar and Eclipse are in that position.
Stage Relationships:
a. Sky Temple: This is where the War Hammer of Raiden came from before Shinnok gave it to Eclipse as proof that Raiden was indeed responsible for her condition.
Trivia:
a. Eclipse's character is solely based on the character of Linda Blair in the movie "The Exocist".
*FAN MADE*
Disclaimer: I do not own the Mortal Kombat logo used. I do not claim to own any of the rights to Mortal Kombat.
This is for entertainment use only.
My take: Mortal Kombat, from time immemorial, has always been showcasing a lot of sexy ladies. All holds true to their female ninjas, a counterpart of every male ninja in the game. That is why I think it is time for them to also add an opposite to Noob, a female wraith, which is a long bit overdue in my opinion. What do you think guys?
File history
Click on a date/time to view the file as it appeared at that time.
Ad blocker interference detected!
Wikia is a free-to-use site that makes money from advertising. We have a modified experience for viewers using ad blockers

Wikia is not accessible if you've made further modifications. Remove the custom ad blocker rule(s) and the page will load as expected.