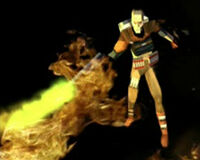 A Flamethrower is a weapon used by No Face in Mortal Kombat: Special Forces.
The Lin Kuei ninja Sektor also uses a Flamethrower, as a Fatality in Mortal Kombat 3 and as a special move in other games. The Flamethrower is mounted on Sektor's arm, unlike No Face's Flamethrower.
DC Universe character Lex Luthor also uses what appears to be an arm-mounted Flamethrower in the game Mortal Kombat vs DC Universe.