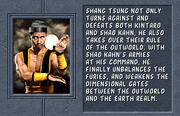 The
Furies
are a virtually unexplained force within the
realms
of Mortal Kombat. They are mentioned in
Mortal Kombat
and
Mortal Kombat II
, but have not been mentioned since, aside of the non-canon
Mortal Kombat (novel)
, which mentions
Shao Kahn
as master of the Furies. The act of winning ten straight Mortal Kombat tournaments upsets or unbalances the Furies, which consequently weakens the dimensional barriers enough to allow interrealm invasions. Based on this, they may act as a sort of dimensional balancing force. It is unclear whether they are sentient entities or just cosmic principles.
Trivia
The Furies, or Erinnýes, are mythological beings found in Greek mythology. They are the personifications of the wrath of the dead, and as such, preside over matters of revenge and broken oaths.

It is unclear whether the Furies of Mortal Kombat have any connection to those of mythology in any way other than name.

In Shang Tsung's Mortal Kombat II ending, he is said to have turned against and defeated Shao Kahn, and with the emperor's armies at his command, finally unbalances the Furies, and brings an unending invasion of demons into Earthrealm, dooming it to eternal darkness.