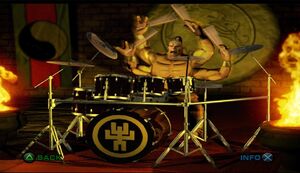 Goro on the Kit is a humourous picture and short story of how Prince Goro of the four-armed Shokan people became the newest drummer in Outworld, maybe even the universe with his quick and unmatched drummer skills, obtained and found in the Krypt and Extras gallery of Mortal Kombat: Deadly Alliance.
Goro, a Rising Star
"Drummers past and present can't hold a lighter to this four-armed Shokan. When he's hitting the skins with his blazin' fast bass pedal work, machine gun sixteenth-note snare fills, and astounding dexterity on the tom toms, Prince Goro's percussion skills are unmatched!"
Ad blocker interference detected!
Wikia is a free-to-use site that makes money from advertising. We have a modified experience for viewers using ad blockers

Wikia is not accessible if you've made further modifications. Remove the custom ad blocker rule(s) and the page will load as expected.