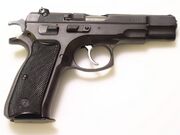 Kurtis Stryker used a hand gun (also handgun) as one of his weapons in Ultimate Mortal Kombat 3 and Mortal Kombat Trilogy. He uses this firearm for moves like Gun Blast. It is his issued gun, since he is part of the police force.
Johnny Cage is able to pull out a Hand Gun while wearing his Tuxedo costume in Mortal Kombat 4, an accompanying accessory to his Secret Agent movie image. If Cage is attacked while wielding it, it will cause him to drop it, allowing the other kombatant to use it. The weapon does not fire bullets, but instead fires bolts of energy similar to the crossbow used by Fujin.
In Mortal Kombat (2011), Stryker uses the weapon, but in a single-round manner under the name Gun Shot. When enhanced, Stryker will use two pistols that will fire once the buttons are released by the player.
In Mortal Kombat X, a hand gun is used by Cassie Cage and Erron Black.
Gallery