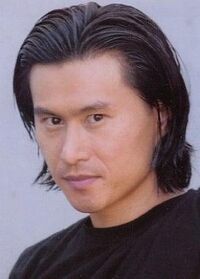 Ho Sung Pak
(born November 8th, 1967 in Skokie, Illinois, USA) is a Korean-American film actor, martial artist, action choreographer, writer, and producer. He is best known for portraying
Liu Kang
in
Mortal Kombat
and
Mortal Kombat II
. He also played as
Shang Tsung
in the original
MK
.
Pak is also known as the stunt double for Raphael in both
Teenage Mutant Ninja Turtles II: The Secret of the Ooze
and
Teenage Mutant Ninja Turtles III. He also played Henry in Drunken Master II (also known as Legend of the Drunken Master) starring Jackie Chan.
Gallery
Ad blocker interference detected!
Wikia is a free-to-use site that makes money from advertising. We have a modified experience for viewers using ad blockers

Wikia is not accessible if you've made further modifications. Remove the custom ad blocker rule(s) and the page will load as expected.