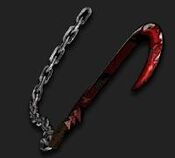 These hook-like chains are called Houan Chains, that were originally used by an ancient group of people with the power of necromancy known as the Houan sect.
These shackles were once used as ceremonial relics within the Houan's rituals, especially their sacrificial rituals before the Houan themselves were destroyed by the Earthrealm's thunder god, Raiden, centuries ago.
The chains are now wrapped around Liu Kang's wristbands as a way for Raiden to control him since his transformation into the undead.
Gallery
Ad blocker interference detected!
Wikia is a free-to-use site that makes money from advertising. We have a modified experience for viewers using ad blockers

Wikia is not accessible if you've made further modifications. Remove the custom ad blocker rule(s) and the page will load as expected.