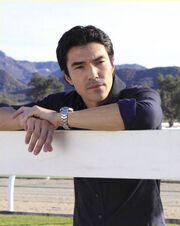 Ian Anthony Dale (born July 3, 1978) is an American actor of Japanese, French and English descent who portrayed Hanzo Hasashi / Scorpion in Mortal Kombat: Rebirth and the Warner Premiere produced web series, Mortal Kombat: Legacy. Dale is best known as Kazuya Mishima in Tekken with his Rebirth co-star Lateef Crowder, a minor part in The Hangover, the minor character Zhou in TV's 24, Davis Lee on Surface, Detective Christopher Choi on Day Break and Agent Simon Lee on TV's The Event.
Gallery
External links
Ad blocker interference detected!
Wikia is a free-to-use site that makes money from advertising. We have a modified experience for viewers using ad blockers

Wikia is not accessible if you've made further modifications. Remove the custom ad blocker rule(s) and the page will load as expected.