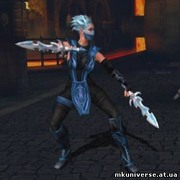 The Ice Daggers are two blades similar to the Sai and the Kriss. They are used by Frost in Mortal Kombat: Deadly Alliance, Mortal Kombat: Unchained, and Mortal Kombat: Armageddon.
Overview
The daggers are created by Frost's ability to control the ice element. Due to the fact her power over ice is inferior to Sub-Zero's, the daggers are the full extent of her ability to form solid objects, while Sub-Zero is capable of creating larger objects such as a sword.
Ad blocker interference detected!
Wikia is a free-to-use site that makes money from advertising. We have a modified experience for viewers using ad blockers

Wikia is not accessible if you've made further modifications. Remove the custom ad blocker rule(s) and the page will load as expected.