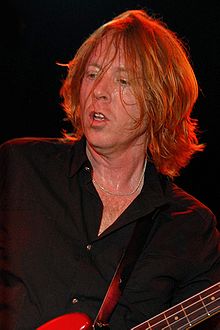 Jeff Pilson (born on January 19, 1959 in Lake Forest, Illinois, USA) is an American bassist and guitarist.
Pilson was a member of heavy metal bands Dokken and Dio. He currently has his own progressive metal group called War and Peace, which was formed in 1993, releasing two albums: 1993's War and Peace and 2004's The Walls Have Eyes. He also works with his ex-Dokken bandmate, guitarist George Lynch in a two-member group called Lynch/Pilson.
Pilson is currently the bassist for Foreigner. He joined the band in 2004.
He has currently done the voice for Johnny Cage in Mortal Kombat (2011).
Ad blocker interference detected!
Wikia is a free-to-use site that makes money from advertising. We have a modified experience for viewers using ad blockers

Wikia is not accessible if you've made further modifications. Remove the custom ad blocker rule(s) and the page will load as expected.