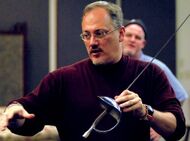 Jim Helsinger (born in Orlando, Florida, USA) is an American actor that portrayed Reiko in Mortal Kombat: Conquest.
Biography
He is the playwright of Robinson Crusoe, Frankenstein, The Modern Prometheus, Dracula: The Journal of Jonathan Harker, A Christmas Carol in Five Parts, and The Trial of Joan the Maid. His plays have been produced at Orlando Shakespeare Theater, Pennsylvania Shakespeare Festival, Orlando Repertory Theatre, Cape May Stage, and the Cincinnati Shakespeare Company. He is also an actor and director and serves as the Artistic Director of the Orlando Shakespeare Theater in partnership with UCF. He resides in Orlando, Florida with his wife and two children.
Gallery
Acting Role
Ad blocker interference detected!
Wikia is a free-to-use site that makes money from advertising. We have a modified experience for viewers using ad blockers

Wikia is not accessible if you've made further modifications. Remove the custom ad blocker rule(s) and the page will load as expected.