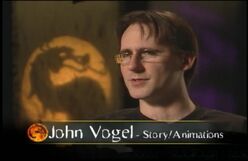 John Vogel (born June 27, 1968) attended the American Academy of Art from 1986-1988 and came to Midway Games in May of 1989, where he has spent his entire professional career. His field is art related, including character creation, background creation, animation, and cinematics. He has held many positions at Midway, including Lead Artist, Lead Background Artist, Character Modeler, Lead Animator, Lead Story Writer, etc.
Trivia
Ad blocker interference detected!
Wikia is a free-to-use site that makes money from advertising. We have a modified experience for viewers using ad blockers

Wikia is not accessible if you've made further modifications. Remove the custom ad blocker rule(s) and the page will load as expected.