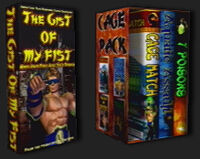 Johnny Cage Video Collection or Cage Pack, is a fictional and humorous set of videos that has all the movies that Hollywood superstar/martial artist Johnny Cage starred in. They are obtained and found within the Krypt and Extras kontent gallery of Mortal Kombat: Deadly Alliance.
Johnny Cage Video Collection Advertisement
"Remember seein' action star Johnny Cage onscreen for the first time? Experience all the excitement and adventure with the complete Johnny Cage Video Collection. And if you order now, we'll throw in Earthrealm Girls Gone Wild!"
Trivia
The Earthrealm Girls Gone Wild that comes with the Cage Pack collection, is hilariously and actually based on the Girls Gone Wild franchise.