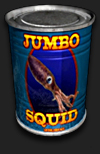 Jumbo Squid is a fictional and comedic canned food full of squid made from the finest squid in Outworld, and it can obtained and found within the Krypt and Extras kontent gallery of Mortal Kombat: Deadly Alliance.
Jumbo Squid Advertisement
"Enjoy Outworld's finest squid. Now dolphin-free! No dolphins were harmed during the brutal squid killing process needed to bring you this fine product."