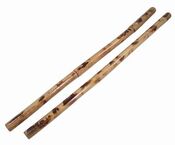 Kali Sticks are two short poles of bamboo wielded by Lt. Sonya Blade of the U.S. Special Forces in Mortal Kombat: Deadly Alliance and Mortal Kombat: Armageddon, and also wielded by Kobra of the newly rebuilt Black Dragon clan in Mortal Kombat: Deception.
Kali itself is not the name of a weapon but a word for the Filipino martial arts which specialize in fighting with one or two baton-length sticks, using techniques adaptable to empty-hand or edged weapons.
Gallery
Ad blocker interference detected!
Wikia is a free-to-use site that makes money from advertising. We have a modified experience for viewers using ad blockers

Wikia is not accessible if you've made further modifications. Remove the custom ad blocker rule(s) and the page will load as expected.