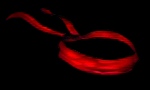 This crimson-red blindfold is made by the blind swordsman Kenshi. Kenshi's Blindfold first appeared along with him in Mortal Kombat: Deadly Alliance and later reappeared as another collectible Relic in the Konquest mode of Mortal Kombat: Armageddon.
After being blinded at the hands of the sorcerer Shang Tsung by looking into the Well of Souls inside the tomb of his ancient ancestors and removing their legendary sword, Kenshi uses this piece of cloth to hide his eyes and to increase his awareness of sound.
Gallery
Ad blocker interference detected!
Wikia is a free-to-use site that makes money from advertising. We have a modified experience for viewers using ad blockers

Wikia is not accessible if you've made further modifications. Remove the custom ad blocker rule(s) and the page will load as expected.