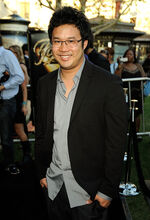 Kevin Harwick Tancharoen
(born April 23, 1984) is an American dancer, choreographer, television producer and film director.
Tancharoen was born in Los Angeles, California. He is the brother of Maurissa Tancharoen and the son of Tommy Tancharoen.
He is known for being a choreographer for Madonna, directing Britney Spears' "The Onyx Hotel Tour", and co-creating DanceLife on MTV.
He made his feature film directorial debut in 2009 with the remake of the 1980 film Fame. In 2010, Tancharoen directed the short film Mortal Kombat: Rebirth as a proof of concept for his vision of a new Mortal Kombat featured film.
Kevin Tancharoen is the director of Mortal Kombat: Legacy.
Tancharoen will be directing and co-writing the reboot film Mortal Kombat: Devastation.