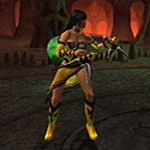 The Kobu Jutsu (also known as Kobujutsu) is a weapon used by Tanya in Mortal Kombat: Deception and Mortal Kombat: Armageddon. It appears like a hybrid of two weapons: it has a Kama-like blade attached to a weapon body which is wielded like a Tonfa.
Tanya is still using her Kobu Jutsu in the new timeline; she is seen using them during the cutscenes of Mortal Kombat X and in her Kobu Jutsu variation, even using them in her fatality to pin down her victim. She also throws them in one brutality.
Gallery
Trivia
In Deception, Kobu Jutsu's early name was Tonfas. The weapons behave in the same manner to Jax's Tonfas in Deadly Alliance.
"Kobu Jutsu" derives from the Japanese word "Ko bujutsu" (古武術), literally meaning "Ancient Martial Art".
Ad blocker interference detected!
Wikia is a free-to-use site that makes money from advertising. We have a modified experience for viewers using ad blockers

Wikia is not accessible if you've made further modifications. Remove the custom ad blocker rule(s) and the page will load as expected.