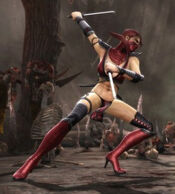 Kodachi Swords are Skarlet's main weapon in Mortal Kombat (2011). They are generally dual wielded, and are considered shorter versions of the Ninja Sword or Katana. They are meant to cut quick and powerfully, and be sheathed before anyone knows what hit them. The sheathes are put on Skarlet's lower back.
Gallery
Ad blocker interference detected!
Wikia is a free-to-use site that makes money from advertising. We have a modified experience for viewers using ad blockers

Wikia is not accessible if you've made further modifications. Remove the custom ad blocker rule(s) and the page will load as expected.