Ad blocker interference detected!
Wikia is a free-to-use site that makes money from advertising. We have a modified experience for viewers using ad blockers

Wikia is not accessible if you've made further modifications. Remove the custom ad blocker rule(s) and the page will load as expected.

Koins
are the primary units of currency in the Mortal Kombat universe, used as a medium of exchange for the trade of goods and services. Koins, though working as the main unit of currency in the Mortal Kombat world, mainly serve as the medium of exchange to purchase and unlock items from the
Krypt
, which may include concept art, images, videos, arenas, characters and their alternate costumes. Each koin is divided into six types based on the gemstone or chemical of which they are comprised, which are
sapphire

,
onyx
,
jade
,
ruby

,
platinum

and
gold
, though the gold Koin is becoming more popularly shown in more recent games.
Every koin, no matter the value/color, features the Mortal Kombat logo.
Uses
Inhabitants of each realm usually use koins as a payment for services they otherwise cannot accomplish themselves, for favors, or to purchase goods. Institutions that allow this process are called markets. Markets are located in every realm, but are most notable in Earthrealm. In local villages, the typical market sells food such as meat, watermelon, and bread, valuable items such as jewelry and vases, and services such as locksmiths. People selling their own goods, such as fish is not uncommon as well. Each koin has its own substantial value, and can only be used to purchase a good or service unless it requires a certain amount of the specified koin. For instance, if a Krypt item requires 1 Jade koin, only one Jade koin can be used to purchase the item.
Mortal Kombat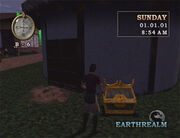 In the Mortal Kombat universe, koins are often scattered throughout every realm, possibly as a result of the carelessness of their former holders. Koins, of random color and value, are also commonly found in
chests
, lying about in every realm. Treasure chests and koins also appear to have magical attributes, as chests containing koins are known to appear at particular times of the month, day, or week, or
after challenges are completed
.
Chests along with Koins were also featured and included in the Konquest mode of Mortal Kombat: Armageddon as well. Contents ranged from koins to extra options for Kreate-A-Fighter mode.
Gallery