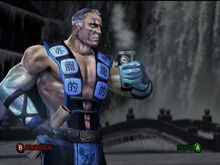 Kombat Mug, also called Mortal Kombat Coffee Mug, is a humorous and fictional coffee mug made from the Mortal Kombat franchise. It is obtained and also found in the Krypt and Extras kontent galley of Mortal Kombat: Deadly Alliance. The spokesperson for this brand new coffee mug is Sub-Zero, Grandmaster of the newly reformed Lin Kuei ninja clan.
Mortal Kombat Coffee Mug Advertisement
"Sub-Zero's freezing fists of fury were always turning his hot cup of morning coffee into a mocha popsicle. That is, until he tried the official Mortal Kombat Coffee Mug. Made of titanium and high grade steel, this Kombat Mug will withstand your menacing grip and keep your coffee warm for hours!"