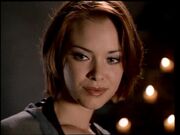 Kristanna Sommer Loken (born October 8, 1979) is a Norwegian-American actress who portrayed Taja in Mortal Kombat: Conquest. Loken is best known as T-X (Terminatrix) in the 2003 movie Terminator 3: Rise of the Machines, Queen Brunhild in German television movie, Die Nibelungen (also known as "Dark Kingdom: The Dragon King" or "Sword of Xanten"), Danielle 'Dani' Andropoulos #3 on an episode of As The World Turns, Rayne in the 2006 film version of the video game BloodRayne, Paige Sobel on TV's The L Word, Elora in In the Name of the King: A Dungeon Siege Tale and Jane Vasco in SyFy's series Painkiller Jane.
Ad blocker interference detected!
Wikia is a free-to-use site that makes money from advertising. We have a modified experience for viewers using ad blockers

Wikia is not accessible if you've made further modifications. Remove the custom ad blocker rule(s) and the page will load as expected.