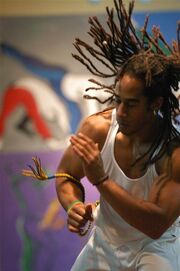 Lateef Crowder (born on November 23, 1977) is a Brazilian actor and stunt performer who portrayed Alan Zane / Baraka in Mortal Kombat: Rebirth. Crowder's best known as Capoeira Fighter in The Protector starring Tony Jaa and Eddy Gordo in Tekken with his Rebirth co-star Ian Anthony Dale.
Gallery
Ad blocker interference detected!
Wikia is a free-to-use site that makes money from advertising. We have a modified experience for viewers using ad blockers

Wikia is not accessible if you've made further modifications. Remove the custom ad blocker rule(s) and the page will load as expected.