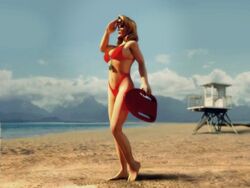 Lifeguard Sonya
or sometimes called
Lifeguard Sonya Blade
, is the picture of
Lt. Sonya Blade
of the
Special Forces
as a top lifeguard, obtained and found in the
Krypt
and Extras kontent gallery of
Mortal Kombat: Deadly Alliance
.
The picture tells a short story and a very good example of Sonya's new job as a lifeguard when she's on vacation, on an undercover mission, or just not working for the U.S. Special Forces at all, and most importantly when she is not busy saving the world from the forces of evil or taking down criminals.
Sonya's Life as a Lifeguard
"When not working as an agent for the U.S. Special Forces, she's combing the beaches as a top lifeguard. So just don't fake your drowning for some free mouth-to-mouth resuscitation because Sonya Blade will kick your butt (after savin' it, of course)."
Trivia
Sonya's job as a lifeguard is reminiscent of the hit 1990's show Baywatch starring David Hasselhoff and Pamela Anderson.
Ad blocker interference detected!
Wikia is a free-to-use site that makes money from advertising. We have a modified experience for viewers using ad blockers

Wikia is not accessible if you've made further modifications. Remove the custom ad blocker rule(s) and the page will load as expected.