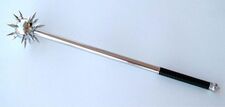 The
Mace
is a weapon with a heavy head covered in spikes on a solid shaft used to bludgeon opponents.
This weapon was used by the Netherrealm's great sorcerer Quan Chi in Mortal Kombat 4 and Mortal Kombat Gold.
This weapon is also really similar to Havik's Morning Star. Several of Shao Kahn's Extermination Squads wielded versions of these weapons.
Gallery
Ad blocker interference detected!
Wikia is a free-to-use site that makes money from advertising. We have a modified experience for viewers using ad blockers

Wikia is not accessible if you've made further modifications. Remove the custom ad blocker rule(s) and the page will load as expected.