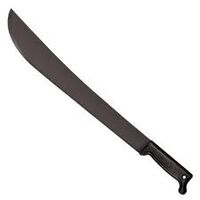 The
Machete
is a weapon that is used by
Kobra
in
Mortal Kombat: Armageddon
. It replaces the
Kali Sticks
he had in
Mortal Kombat: Deception
, which are given back to
Sonya Blade
, as she wielded them in
Mortal Kombat: Deadly Alliance
.
In Mortal Kombat X, the guest character Jason Voorhees uses the machete, his signature weapon in Friday the 13th films.
Gameplay
In gameplay, the machete shares similar attacks to Ashrah's Kriss. The machete is a large and heavy blade, capable of cutting easily through flesh and bone. Its thick and razor sharp blade chops through very sharp armor in a quick swing.
Gallery
Ad blocker interference detected!
Wikia is a free-to-use site that makes money from advertising. We have a modified experience for viewers using ad blockers

Wikia is not accessible if you've made further modifications. Remove the custom ad blocker rule(s) and the page will load as expected.