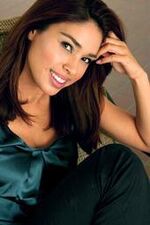 Maria Arcé is the actress who portrays Maya, a royal servant of Princess Kitana in the episode "The Essence" of the TV series Mortal Kombat: Conquest.
Filmography
Paul Blart: Mall Cop (2009)
Shark .... Chamber Maid
Just Friends (2005) (cameo Maria Arcé) .... Athena
The Good Part (2005) .... Stepmother
The Girl Next Door (2004) (cameo Maria Arcé) .... Chloe
A Man Apart (2003)
The United States of Leland (2003) .... Bethany
Dr. Dolittle 2 (2001) (voice) .... Pescado
Screwed (2000)
Next Friday (2000) (cameo Maria Arcé) .... Chica #2
Mortal Kombat: Conquest .... Maya (Servant Woman) (1 episode, 1998)
Ad blocker interference detected!
Wikia is a free-to-use site that makes money from advertising. We have a modified experience for viewers using ad blockers

Wikia is not accessible if you've made further modifications. Remove the custom ad blocker rule(s) and the page will load as expected.