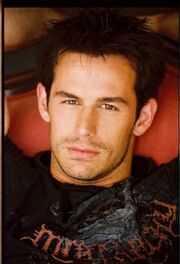 Matt Mullins (born November 10, 1980) is an American actor and 5-time martial arts world champion who portrayed Johnny Cage in Mortal Kombat: Rebirth and the Warner Premiere produced web series Mortal Kombat: Legacy. Mullins is best known as Len / Kamen Rider Wing Knight in Kamen Rider: Dragon Knight.
However, he wouldn't returning in season 2 on shogungamer.com:
He won't be reprising his role as Johnny Cage. Portraying Cage both in Kevin Tancharoen's original pitch/off-shot feature MK: Rebirth, and the 1st season of Legacy, Mullins has sadly been recast by Casper Van Dien.
External Links
Matt Mullins at the Internet Movie Database
Ad blocker interference detected!
Wikia is a free-to-use site that makes money from advertising. We have a modified experience for viewers using ad blockers

Wikia is not accessible if you've made further modifications. Remove the custom ad blocker rule(s) and the page will load as expected.