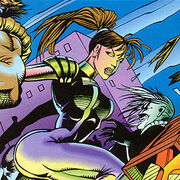 Lieutenant Mikka Stone
or Lt. Mikka Stone is a character who appeared in the
Mortal Kombat Special Forces
Comics
. Mikka is a member of
Jax's
squad, along with
Sonya Blade
,
Sylence
,
Torque
and
Vapor
. According to the comics, Mikka uses
Twin Katanas
as weapons. In the second comic "
Secret Treasures 2
", Mikka and Jax are held captive by a member of the
Black Dragon
named
Rojack
, who was trying to steal an artifact called the
Kitai
, which is said to be an ancient artifact that was created by the gods. In this case, it could open a portal to other realms. Rojack succeeds in receiving the Kitai, but his success is short lived when he opens up a portal to
Outworld
, where he remained trapped. In the comic, Mikka is said to be very fast and dangerous. Mikka is also an expert in the art of swordmanship.
Ad blocker interference detected!
Wikia is a free-to-use site that makes money from advertising. We have a modified experience for viewers using ad blockers

Wikia is not accessible if you've made further modifications. Remove the custom ad blocker rule(s) and the page will load as expected.