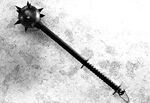 The
Morning Star
is the Cleric of Chaos
Havik
's mace weapon in
Mortal Kombat: Deception
and
Mortal Kombat: Armageddon
. It is similar to the
Mace
used by the demon sorcerer
Quan Chi
in
Mortal Kombat 4
.
In real life, the morning star came in two forms: either looks like a mace or the part where it attached the spiked ball is chained.
Gallery
Ad blocker interference detected!
Wikia is a free-to-use site that makes money from advertising. We have a modified experience for viewers using ad blockers

Wikia is not accessible if you've made further modifications. Remove the custom ad blocker rule(s) and the page will load as expected.