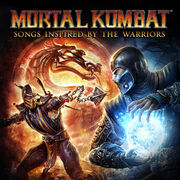 Mortal Kombat: Songs Inspired by the Warriors is an album that is executive produced by JFK (of the innovative DJ/production duo MSTRKRFT and Death From Above 1979) and is made up of songs inspired by the iconic warriors from the game Mortal Kombat (2011). It was released on April 5, 2011.
JFK was tapped to pull together a wide variety of electronic artists to create songs themed to individual characters from the MK franchise, and the result is Mortal Kombat: Songs Inspired by the Warriors. In addition to cultivating original music from the best electronic talents in the industry, MSTRKRFT contributed their own music to the project.
Track List
Deathstalker (Scorpion's Theme) - JFK of MSTRKRFT
Mileena's Theme - Tokimonsta
Helado (Sub-Zero's Theme) - Harvard Bass
Liu Kang's Theme - Congorock
Goro's Theme - Bird Peterson
Reptile's Theme - Skrillex
Raiden's Theme - 9th Wonder
Johnny Cage's Theme - LA Riots
Baraka's Theme - Run DMT
Kung Lao's Theme - Felix Cartal
Kano's Theme - Them Jeans
Shao Kahn's Theme - Sound Of Stereo
Mortal Kombat: Songs Inspired by the Warriors
Ad blocker interference detected!
Wikia is a free-to-use site that makes money from advertising. We have a modified experience for viewers using ad blockers

Wikia is not accessible if you've made further modifications. Remove the custom ad blocker rule(s) and the page will load as expected.