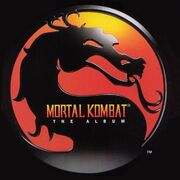 Mortal Kombat: The Album is an album by The Immortals (Maurice Engelen, aka Praga Khan, and Oliver Adams best known for their work on Praga Khan and Lords of Acid), released in 1994 to accompany the home versions of the video game Mortal Kombat.
The album featured a techno song for each of the 7 playable characters, as well as Goro, along with two additional tracks. Track 5, "Techno Syndrome (Mortal Kombat)," dates back to 1993 when it was released as a single; the year when the game was released for consoles.
Track List
1. "Johnny Cage (Prepare Yourself)"
2. "Kano (Use Your Might)"
3. "Sub-Zero (Chinese Ninja Warrior)"
4. "Liu Kang (Born In China)"
5. "Techno Syndrome (Mortal Kombat)" - written by Oliver Adams
6. "Scorpion (Lost Soul Bent On Revenge)"
8. "Raiden (Eternal Life)"
9. "Goro (The Outworld Prince)"
10. "Hypnotic House (Mortal Kombat)"
Mortal Kombat: The Album
Ad blocker interference detected!
Wikia is a free-to-use site that makes money from advertising. We have a modified experience for viewers using ad blockers

Wikia is not accessible if you've made further modifications. Remove the custom ad blocker rule(s) and the page will load as expected.