Factions

Real-world info

External links

Updates and ports

Adventure Games

Film

Television
Mortal Kombat (also known as Mortal Kombat 9 and Mortal Kombat (2011)) is a fighting game from the Mortal Kombat series. Developed by NetherRealm Studios (formerly known as WB Games Chicago and Midway Games Chicago), it is the ninth installment in the series and the first published exclusively under the Warner Bros. label. Mortal Kombat was released on April 19, 2011 in North America, and has been released on April 21 in Europe on the PlayStation 3 and Xbox 360 systems. A PC version has also been suggested as a possibility.
The story begins after the events of Mortal Kombat: Armageddon, but then returns to the period in which the first three games - Mortal Kombat, Mortal Kombat II, and Mortal Kombat 3 - occur. Due to a plot twist (the character Raiden now having knowledge of the future), the events of this time are slightly altered.
Featured video
Join the Chat
Create blog post
News

Hello again MK Wiki!

We had a chance last week to sit down with Brian Goodman, Marketing Game Manager at NetherRealm Studios, and ask him some of your questions about Mortal Kombat X. We also had a chance to spend some hands-on time with the game and check out the new Faction Wars mode.

The Faction W…

Read more >


Check out the answers to your questions, and learn about the Living Tower and Faction Wars modes in MKX, right here!


Hey everyone!

Good news! We may have an upcoming opportunity to talk with NetherRealm about Mortal Kombat X next week, and we'd like to get as many questions about the game from the com…

Read more >

Few games embody the spirit of competition better than fighters; you and your opponent sit down, pick a character, and duke it out to see who's best. And in the process of beating up your friends, it's hard not to have a few favorite characters. Which is your favorite? Ryu from Street Fighter? Sub-…

Read more >
See more >
Featured article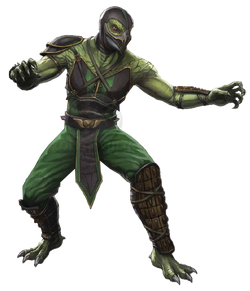 Reptile is a green garbed, humanoid reptilian creature that embodies the archetype of the unhappy underling. Said to be physically hideous and repulsive, he is renowned for his great stealth and unquestioning loyalty. Unlike many other henchmen, Reptile does not strive for power. He is caught in a delusional state of mind, obsessed with finding the last remaining member of his race, or freeing his homeworld of Zaterra from Outworld's grasp.

See More
Did you know?
The names Noob and Saibot are the names of the 2 series creators backwards?
Poll
Who would you like to see in the next Mortal Kombat game?
Featured images